All the Fuzzies
Life is not experienced to the fullest unless it is shared with pets. In keeping with that line of reasoning, we have decided to vastly expand our full-life experience by adopting a number pets over the years. Find out about our current pets, and the ones who have gone over the Rainbow Bridge.
Fuzzies Now
These are the fuzzies who are living with us now.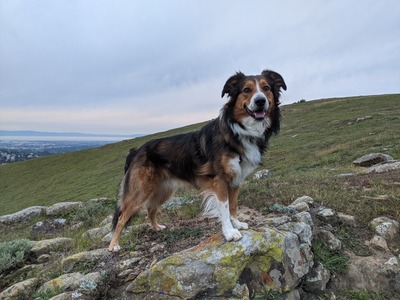 Miles
Miles is an English Shepherd, our first non-shelter dog and the first itty-bitty puppy we ever brought home. Now an adult weighing about 60 pounds, he's a very good boy and is becoming a great sports partner.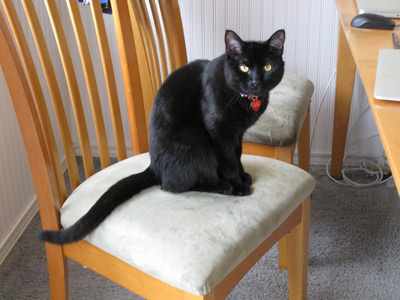 Hairy Pawter
Hairy Pawter is actually the kiddo's cat - she saved up and paid for his adoption fee with her own money (after showing she was responsible enough for a cat by caring for our two existing cats). Mr. Pawter is solid black, but for a while he had one white whisker.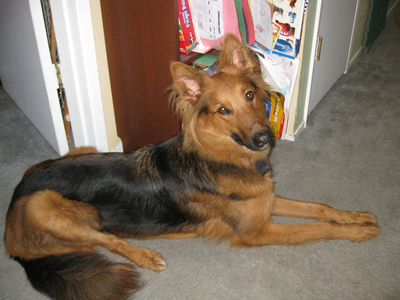 Freya
Freya is a very leggy German Shepherd / Collie mix (according to her Wisdom Panel DNA test). She's tall, but only weighs about 70 pounds and is very agile considering her size.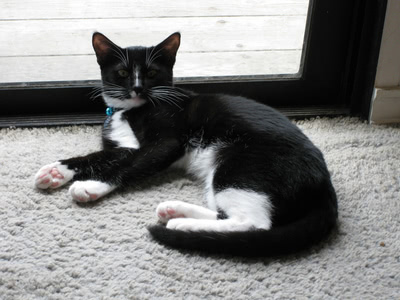 Phoebe
Phoebe joined the family to return the balance of fuzzies to two dogs and two cats. Plus, the kiddo, at two years old, really wanted another cat. Phoebe is a tiny little thing in a tuxedo suit, rather twitchy, but very snuggly in her own way.
Rainbow Bridge
These are the fuzzies who have gone over the Rainbow Bridge. We will always miss them...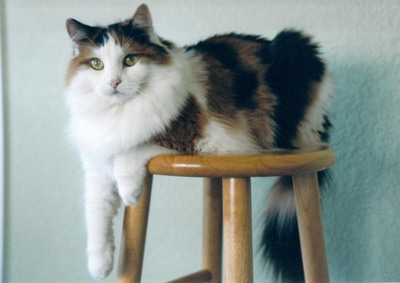 Cammy May 29, 1999 - Dec 24, 2018
Cammy was the ultimate fluffmeister in a calico suit. Her vast quatities of black, orange, and white fur make her look way bigger than she actually was. Cammy lived with us in California, but she was born in a very distant state.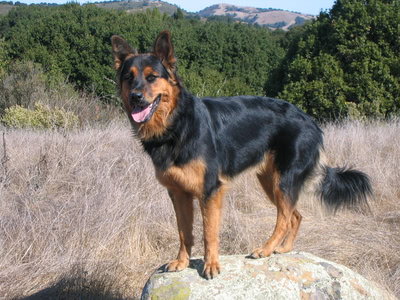 Penny Apr 1, 2005 - Sep 9, 2018
Penny, our second ever dog, was a black-and-tan, fluffy, cutie, Shepherd mix, and weighed in at about 60 pounds. She was very accomplished, with many obedience, rally, nosework, and even parkour titles under her belt, but most importantly she was my very best Sweet P.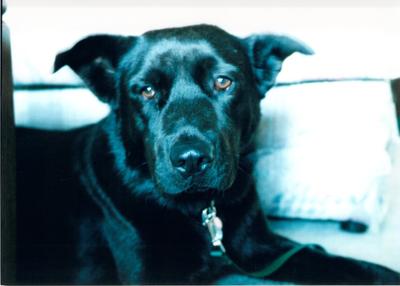 Pablo Oct 15, 1999 - Jan 14, 2016
Pablo was our first dog, and our third ever pet. He was a big (about 70 lbs), black (very black) fellow, who was believed to be a Lab mix, possibly with Shepherd and/or Chow. Find out which part of his body led us to believe that there was at least some Chow Chow in the mix.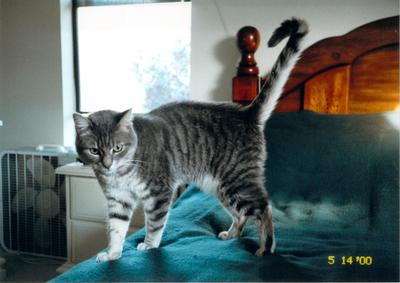 Kirby May 2, 1996 - Apr 30, 2008
Kirby was our first kitty, our first ever fuzzy, and the one true California Carpet Tiger. His grey, striped body allowed him to blend in beautifully with the carpet and sofas of his natural habitat. Also, find out what sort of sound he made (hint: it wasn't "meow").